Job Opportunity: Survey Technician
Lamoureux & Dickinson is looking for a survey tech. The ideal candidate is interested in becoming licensed and has some experience with mapping and survey-grade Trimble GPS equipment. Must be willing, after an appropriate training period, to work in the field as a one-person crew. Experience working with Carlson drafting software is also a plus, but not required.
Contact Doug Henson at [email protected]
Posted December 23, 2021
Job Opportunity: Surveyor in Northeast Kingdom
In need of a person aspiring to be a land surveyor in the most beautiful area of Vermont - the NEK. One who is familiar with and/or willing to learn Carlson software. A major portion of the employment would be in the office. Of course, there will be some field work.
Contact Andy Dussault at [email protected]
Posted December 15, 2021
Needed: Blueprint Machine
A VSLS member is looking for a blueprint machine. Apparently, the "heater" in his 35 year old EconJet has gone on the blink. If you can help. please contact Andy Dussault, 802-748-8394, [email protected]
Posted December 6, 2021
For Sale: Canon Scan System
Reprographics has a used Canon 760 MFP Copy-Printer-Scan System.
36" Wide Color Printer
40" Wide Scanner
Stand with Flat Stacker
Asking: $ 2,800.00
For information, contact Tom Wetzel at Repro: 802-233-5749 or [email protected]
Posted December 1, 2021
Job Opening: Tenure-Track Assistant Professor, Surveying Engineering Technology
The School of Engineering Technology at the University of Maine invites applications for a full-time, academic year, tenure-track position in the area of surveying engineering. The successful candidate must develop and teach both traditional and online courses at all levels of the curriculum. Engineering technology faculty members clearly communicate with students the connections between principles and professional practice using written and verbal methods. UMaine is located in beautiful Central Maine. Many employees report that a primary reason for choosing to come to UMaine is quality of life. As a former NSF ADVANCE institution, the University of Maine is committed to diversity in our workforce and to dual-career couples. Full details are available at https://umaine.hiretouch.com/job-details?jobID=72028&job=assistant-professor-of-surveying-engineering-technology
Posted November 30, 2021
Job Opening: Land Survey Instrument Operator
Doucet Survey is a progressive land survey company and has an immediate opening for a highly-motivated Instrument Operator to join our growing team. Qualified applicant should have two-year survey degree or a minimum of one-year of land surveying experience.  Experience with Trimble Total Stations and Trimble Access Software is a plus.
Must be able to perform various land survey tasks under the direction of a supervisor, be detail-oriented, and possess excellent communication skills.  A valid driver's license, good driving record, ability to lift over 75 pounds and work in a variety of weather conditions is also required.  Must also be able to pass a Department of Defense security screening.
The successful candidate will work on a wide variety of projects throughout New England and some overnight travel may be required.
Doucet Survey has offices in Newmarket, Bedford, & Keene, NH and Kennebunk, ME and offers a competitive salary and benefits package.  Visit our website at www.doucetsurvey.com for more information.  Please send resume and cover letter to [email protected].
Posted November 17, 2021
Free Surveys from Highgate Area
Is there anyone out there who would like a few surveys in the Highgate area by Don Grady??
If not, I'll trash them. Please contact Andy Dussault, 802-748-8394, [email protected]
Posted September 27, 2021
Free Equipment: HP-3810A
Contact Dawn Moss at Stantec, 55 Green Mountain Dr, S. Burlington, Vermont
Phone: 802-864-0223
Posted: September 13, 2021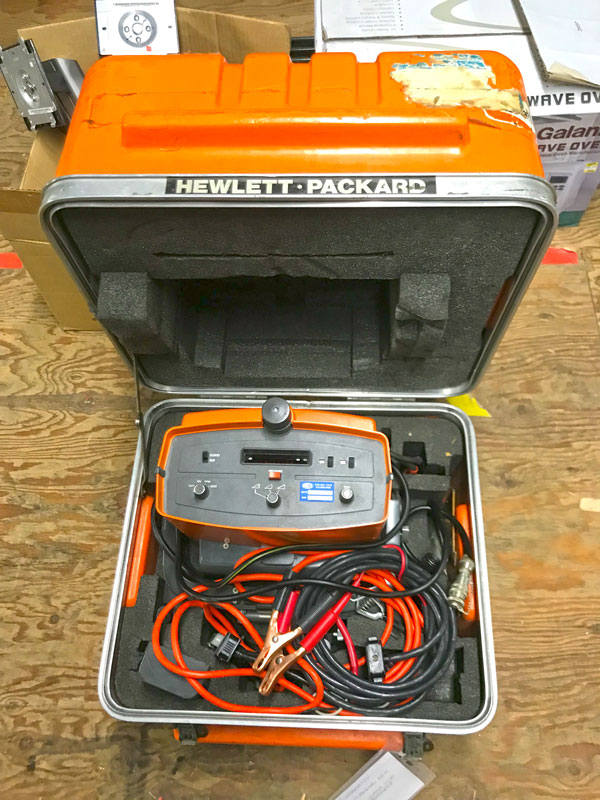 This is a bulletin board for members who are looking to buy or sell an item, or to post a job opportunity. Items will be posted by the administrator for 60 days.